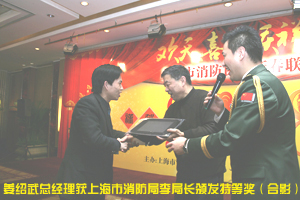 ShangHai WuZhong Fire Protection Material CO,.Ltd Is Founded in 1998 ,Located in ShangHai city ,We have the branch company ,Wu Xin Fire Protection CO,.Ltd and Long Wei Fire Protection CO,.Ltd ,Which including the prodctuion ,Install and maintain service.
We also elected Wu Xin Fire Protection Material Markect in 2008 in ShangHai, All Our Fire Protection Products are approved and authenticated by the national fire department.
 Our products Including Automotive Fire extinguisher, Foam Type Fire Extinguisher, Power Extinguisher ,Portable water Extinguisher ,Wheeled Water Based Fire Extinguisher , Fire Alarm Device ,Fire protection Meterial , Fire Door ,Fire Pump,And many other Kinds of Fire Protection Material Fire protection Cloth, Fire window, and equipment.
 We are seeking strategic long-term partnes worldwide to further develop we can supply as the customer's requirment . At present we were certified ISO 9001 Quality And Europe "CE" certificate ,We can provide the best Fire Protection products and price in China.